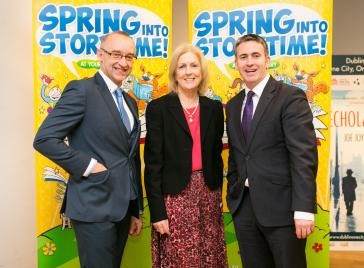 5 April 2017
Spring into Story-time will deliver a range of story-time events for children of all ages in the 332 libraries throughout Ireland in April. Announcing the initiative, the Minister said, 'Spring into Story-time provides an ideal opportunity for children to take time to enjoy a variety of stories in their local library. Children will experience reading as an activity which is fun, entertaining and importantly allows families to share this happy time together.'
Minister English, T.D., Minister of State for Housing and Urban Renewal launched the 'Spring into Story-time', the latest initiative from the Public Library Service's 'Right to Read' programme, on the 5th of April. At the launch in Pearse Street Library, the Minister praised the initiative saying "it is a wonderful programme and I would encourage parents to bring their children to the local library and join in - reading enhances children's well-being, creativity and imagination with better social and health outcomes, and an overall better quality of life as they get older".
Noting that library staff welcome parents to the story-time sessions, he added,

"I would encourage everybody involved with children, both families and educators, to check out the list of events at your local library. The public libraries provide a fantastic opportunity to find new stories, get new ideas and learn more about favourite hobbies and subjects".
Spring into Story-time is part of the Right to Read Programme (identified as part of the public libraries strategy, Opportunities for All), and is a creative way in which children's literacy skills can be developed.
Improving literacy standards is a national priority as literacy is considered a critical skill and contributor to the overall wellbeing of society.
Spring into Story-time will deliver a range of story-time events for children of all ages in the 332 libraries throughout Ireland in April.


Further information can be found at www.librariesireland.ie through the local library services