The local authority sector has developed a new strategy to deliver on the Climate Action Charter and Climate Action Plan.
Developed in consultation with local authorities and adopted by the County and City Management Association, Delivering Effective Climate Action 2030 aims to support sector's ambition to lead on climate action.
Background
Local government is identified as key to delivering on Ireland's national Climate Action Plan 2019 and each local authority has expressed their commitment to driving and leading this change by signing a Local Authority Climate Action Charter.
The new strategy, Delivering Effective Climate Action 2030 is a roadmap for the entire local government sector to deliver on those commitments.
It applies a common vision for the sector and sets out solid objectives for local authorities to work towards in order to maximise their collective impact on Ireland's national climate targets.
In consultation with the sector, the vision, mission, and objectives of this strategy were developed to support local authorities to enhance and maximise the leadership role they have already assumed in addressing climate change.
The strategy will be implemented by the local authority sector up to 2030. 
Vision
The sectoral vision is to leverage the capability, reach and resources of local authorities to effectively lead and coordinate climate action across Ireland.
Mission
The mission of local government is to deliver transformative change and measurable climate action across our cities and counties and within our own organisations, through leadership, example and mobilising action at a local level.
Goals and objectives
Delivering Effective Climate Action 2030 sets out six high-level strategic goals with each goal addressed through a set of focused objectives. These are set out in the graphic below and more information can be found in the full strategy document.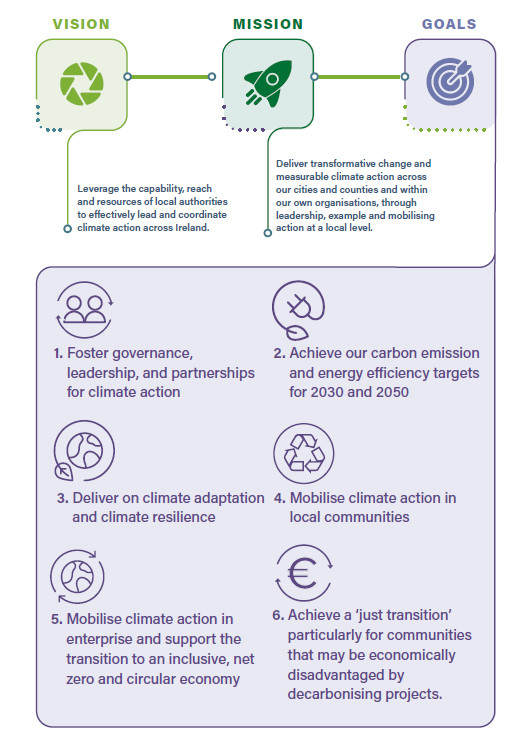 More information 
You can read the full strategy Delivering Effective Climate Action 2030 here.
The strategy was launched at a webinar on April 14th 2021. Presentations from the event are linked below.
Presentation by Paddy Mahon, Longford County Council Chief Executive and Chair of the CCMA Climate Action Committee
Presentation by David Mellett, Regional Coordinator, Climate Action Regional Office